Spec Level: Custom
Flame Spalt Maple top with an Ash body core.
7 piece Wenge/Maple neck with Acrylic Impregnated Birdseye Maple board.
ACG FB humbuckers and ACG EQ01 pre-amp.
Satin finish.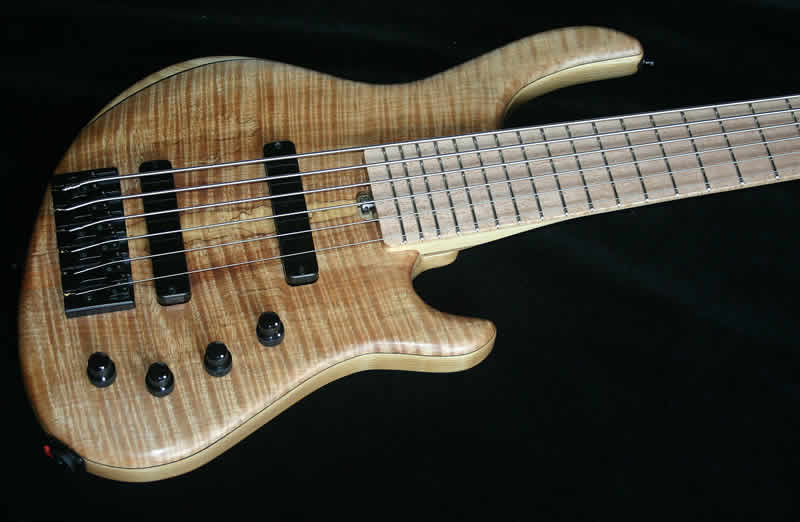 Top Wood: Flame Spalt Maple
Body Wood: Ash
Accent Veneer: Purpleheart
Body Finish: Satin Lacquer
Neck Wood: 7 piece Wenge/Maple
Fingerboard: Acrylic Impregnated Birdseye Maple
Head Plate: Flame Spalt Maple, Back Plate: Ash, Heel: Ash
Neck Finish: Satin Lacquer
Pickups: 2 x ACG FB Pickups
Hardware: Hipshot Bridge and Ultralite Tuners
Pre-amp: ACG EQ01 Preamp
My thanks to Jon for the time taken to put together a review of the bass.
The wood choice was mine but Alan helped me through it with great patience when I struggled to make up my mind, and he indulged my arrowhead headstock design reminiscent of a Pangborn bass I own. The specification of a custom bass is actually quite bewildering as all of a sudden almost endless combinations open up to you, and I specified this bass without actually playing another ACG. Although I spent quite a bit of money on the bass, it was not a 'money is no object' project and I would have liked flame maple in the neck and I toyed with a figured back (although I actually really like the look of the ash body so no great sacrifice), on the other hand I like understatement too.
This is not a light bass but for a 6 string it is pretty good, and it feels very solid all round (in a good way). It is finished in Alan's rubbed satin finish which very well applied and smooth, without feeling like a factory applied gloss finish which can be great but looks almost artificial or 'too glassy'. I am very pleased with the visual result.
The neck has Alan's asymmetric profile to it which I find makes it relatively easy to play a pretty large neck (my spec is the broader neck dimensions Alan does with 18mm bridge spacing). The 'bass side' of the neck looks quite thick, while the 'treble' side is shallower, it sounds a bit weird but works very well.
As it was delivered the action was pleasantly low, I got a tiny bit of buzz on the C string but I think this was a combination of it needing playing in and me adapting my style slightly as it has gone now. The acrylic impregnated fretboard looks like wood but I think it gives it a harder 'pinging' quality to the basses tone (think Status but more woody), this actually is quite demanding on your playing technique as you do have to play cleanly.
The access to higher frets is not a huge issue for me personally but it feels good on the few occasions I get near them. I prefer bolt on necks just in case of disasters and it keeps the cost down. I know there is a lot of debate about through necks giving different sustain etc. but I can't really think of a situation where I could use more sustain than this bass gives. In fact if anything it is hard to stop strings ringing and it has made me adjust my damping technique as a result, not a fault of the bass.
The pre-amp has pickup specific filters not unlike those on a Wal with an additional hi end filter control, these enable you to sweep the frequency and gain on the filter, this is a bit like a parametric filter with boost and cut but it amplifies only the frequencies below where it has been set. When set at low frequencies it gives a really deep warm rumble in the felt as much as heard territory.
To set my sounds up on the bass I tend to adjust the neck and bridge pick tones on their own then sweep between the two pick ups to get the sound I like for what I am doing (the front control is master vol and pan pot). There are the tone controls for each pick up and the back control is a sweepable high frequency. It sounds complicated, I had forgotten what precisely each control did from the time I specified it, but it starts to feel fairly natural after a while. The electrics are 9v but there appears to be loads of head room and it is pretty loud compared to my other basses.
The bass is very clean and precise sounding with great depth and warmth (never sounds sterile) but also can produce some shimmering top end – I have never had a bass which is so capable of producing both these tones at the same time. It is one of those basses that can be played solo and still sound really good, the nearest bass to this I have played would be a Zon I test played a while back although the eq feels far more flexible to me. Perhaps the trade off is that you spend a little bit more time 'tweaking' sounds out of it but again it is not a problem for me, in fact I love it.
It would struggle to sound like a Fender which often can sound less focused, sometimes that is a good sound but not always, I have yet to play it in a band context (for which I usually take a Squire Jazz Bass V – cheap but very capable). I will try it out in the covers band at some point but I suspect I will be rolling off a bit of the hi frequency filter for that..
Alan did a great job for me and I think his work is superb – so much of our impressions of instruments are based on our personal views and preferences, but having owned a Wal, and still owning a Pangborn and a couple of Shukers as well as scratch building 2 basses of my own I feel qualified to say Alan's work is up there with the very best.